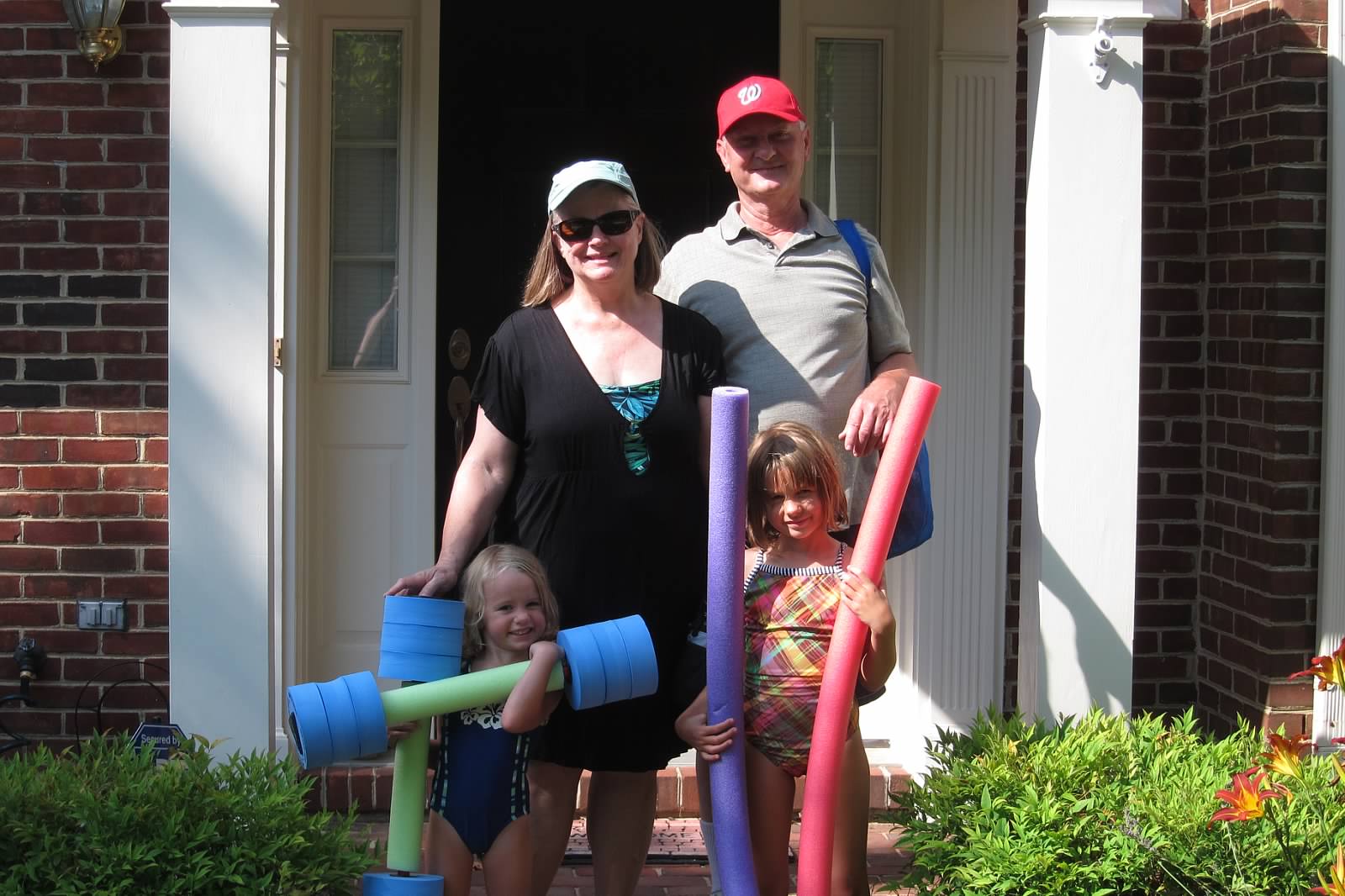 First official day of Mini-Mimi Camp began with "lift-off" from SML around 9:00. As Mimi drove, Pop-Pop attempted to operate the portable DVD player. After much angst, it was realized that the "hold" option on the player was there to prevent children and PhD's from operating without adult supervision. Since Mimi was driving and the DVD player inoperable, we diverted to the iPad and the girls watched "Beauty and the Beast."
The team stopped in Ruckersville at the McDonald's for lunch and then continued on to Fairfax watching "Lilo and Stitch" on the "now-operational -thanks -to -Mimi" DVD player!
We arrived in Fairfax mid-afternoon and Mimi and campers walked over to Wegman's for snacks for "Miss Snacki" and Frankie. With $30 of snack in tow (Cheez-its, Tinker Bell Fruit Snacks, peanut butter crackers, Cookie Crisp, "Cheesy Apples Fixings", white grape juice, Ritz Cheese Bits), the troopers marched back to the townhouse and dressed for the pool. Pop-Pop, Mimi and campers (along with 2 noodles, 2 bar floats and a small cooler of treats) then walked to the pool for fun-in-the-warm-pool swimming time. Pop-Pop was thrilled with the water temp…just shy of bath water temps! The girls played hardy for 45 mins and we had our snacks and gathered up the noodles and headed home for dinner.
Khaki fell asleep on the sofa around 6:00…no dinner, no PJ's…and didn't wake up till 8:00am the next morning. Mary watched some "My Little Pony" on Mimi's iPad while Mimi and PopPop fell asleep watching the Nats. We were all in bed by 8:30…the Nats were losing in the 8th inning when we turned off the TV and won in the 9th inning…"It ain't over till it's over."
Note: Uncle Chi's eyes got really big when he saw all the snacks the girls had. Almost made him want to be a "Mimi Camper"!!!