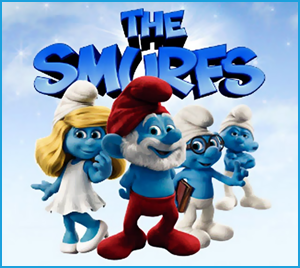 It's hard to improve on a camp day on horseback, but day two proved to be a fun one.
We started with scrambled eggs and a healthy dose of the cartoon network. Then at 10:15 we all headed off to "Cut 'n Hair" for Victoria to work her magic on the girls' hair. (See "Before" and "After" proofs!) Annagrace asked for curls and after an hour with the curling iron, she definitely got what she asked for. Honora chose the more natural look and looked stunning with her new hairdo.
We left Victoria around noon and headed for one of our favorite watering holes in Luray….Rancho Viejo! We downed lots of chips, white dip and taco salads before heading home.
The afternoon turned into a pleasant surprise and also a trip down memory lane for Mimi and Pop-Pop. The girls insisted on seeing the Smurf movie, despite their grandparents' moaning and groaning. After a few minutes into the movie, Mimi and Pop-Pop were smurfed and lovin' it. Papa Smurf, Smurfette and all her brothers, Gargomel and Azriel and lots of "blue" brought back many memories of these cartoon characters from 25 years ago. It was a good movie and we all left glad that we saw it.
We had Pop-Pop's "Good Ragu Spaghetti" for dinner and the girls settled in to watch "Spy Kids: 3D" at home.
Life is smurfin' good at Mimi Camp.
Mimi