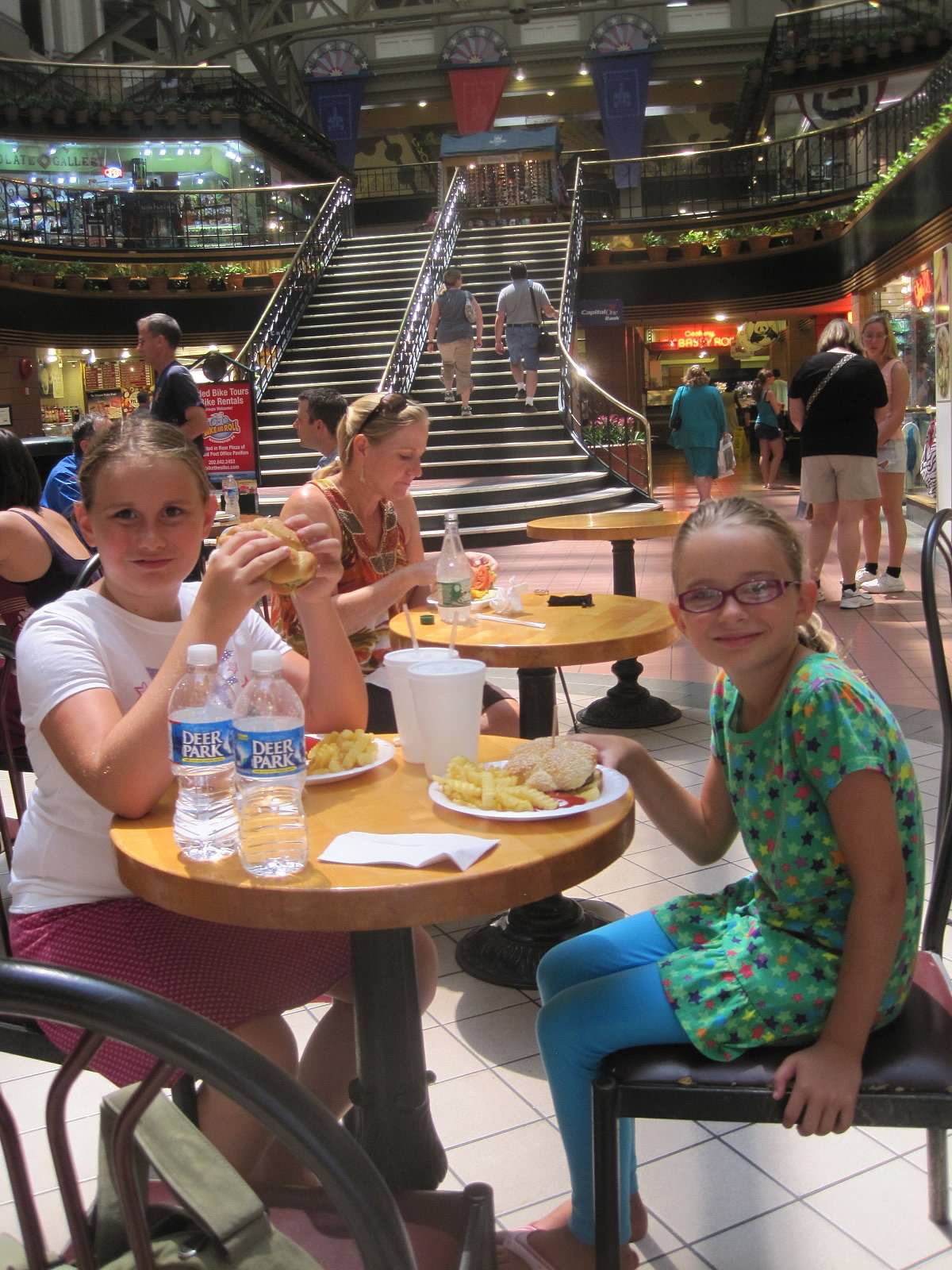 Day Four started with a late wake-up and some cheesy scrambled eggs for breakfast. With just a minimum amount of "Tom and Jerry" we headed for the Metro station around 10:00. The girls are now experts on riding the Orange Line in Vienna!
With the temperatures rising into the 90's, there was a bit of complaining and whining, so Mimi had to invoke the "three strikes and you're out" rule; but after our walk to the Washington Monument and the White House, the promise of a trip to the Old Post Office for lunch helped to assuage the pain of sightseeing a bit. Nothing like hamburgers and fries to change their attitude!
The next item on our quick tour of DC was the Museum of Natural History. The girls were feeling much better and eager to check out the Hope Diamond and the Museum Stores. We made our way through the rotunda and past the elepant to get in to see some dinosaurs, but, girls being girls, we quickly decided that the diamonds and other jewels were more interesting. (Note to PopPop: any or all of these items would be acceptable for Mimi's Christmas present.)
The gems and minerals were good for a while and we decided to hit the Museum store and then head home. Of course, the traditional "Slurpee-after-Washington" was required and a rest with Bugs Bunny was appreciated. Since the skies were darkening around 4:00, we nixed the pool plans and the girls made the mistake of challenging Mimi to "Just Dance 2." BIG MISTAKE! "Baby" danced her way to victory…just check out the score in the picture.
So….."Wake Me Up Before You Go Go" and know that life is still good at Mimi Camp.
"Baby" aka Mimi