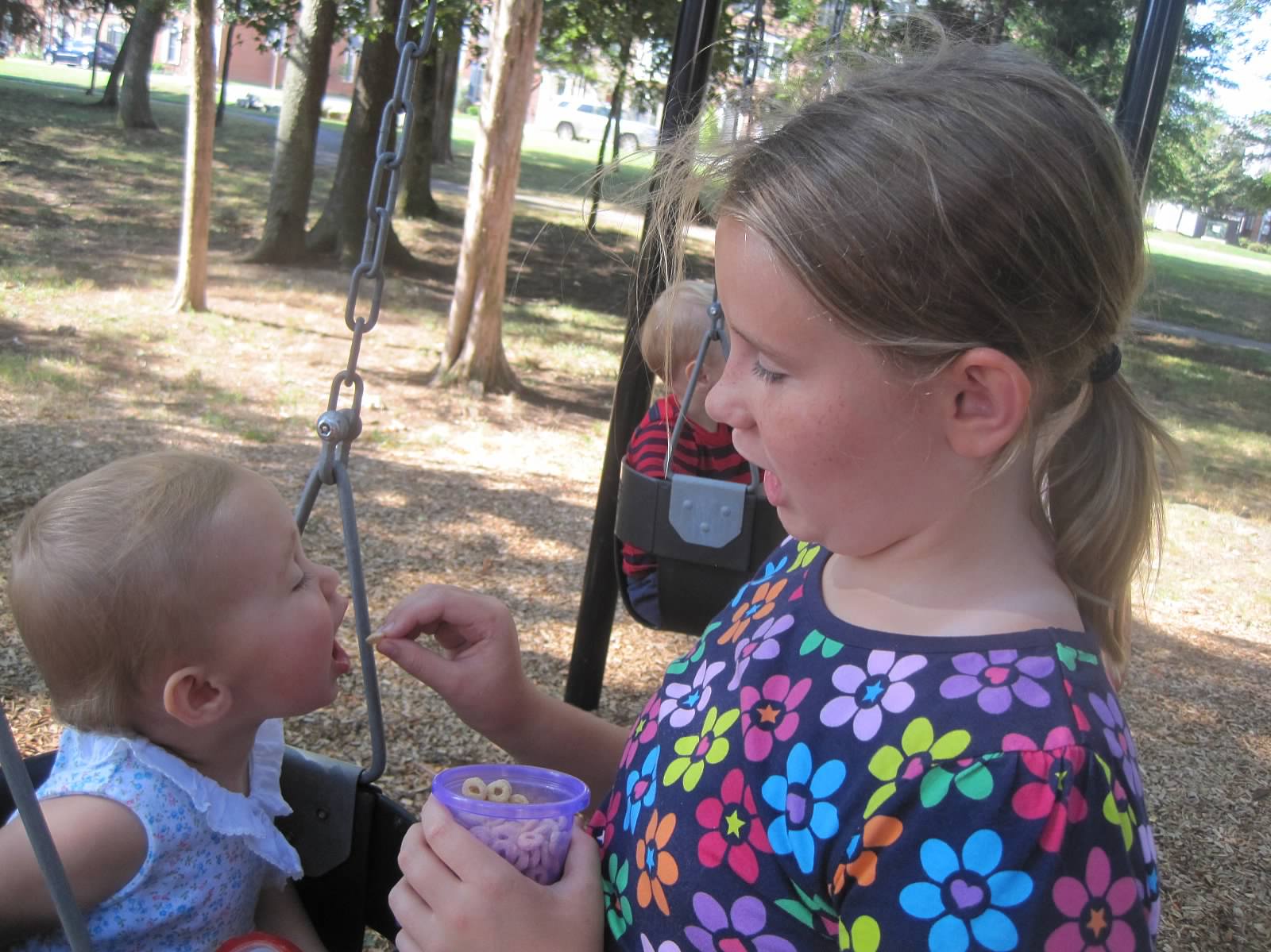 Day Five was the long-awaited "Twinsday." The campers, along with Mimi and PopPop, headed out to Loudoun County for an 8:30 rendezvous with Claire and Anderson….and Jill. The babies were ready and waiting and since Pop-Pop didn't have to catch his plane for Mississippi until noon, he accompanied us on a morning "constitution" to the park. Jill headed one way and the rest of us headed out for our walk and playtime in the park.The babies loved swinging, climbing and snacking and the girls followed them around like good guardians! Except, of course, when they (the girls) were swinging, climbing and snacking! Claire looks like she has a great potential for catholicism…note how she accepts her Cheerios! After about an hour of outdoor play, we strolled back to the condo to read, to play more and to snack more. It was hard holding the babysitters back from eating all the Cheerios, cheese and raisins, but the babies managed to have enough to sustain them till lunchtime.
Mimi and campers left around 11:30, headed "to bank to get money" and then to Target and MacDonald's for lunch. We spent the afternoon playing Crazy Eights and Just Dance 2. Around 5:00 we went over the pool, noodles and all! After trying to spray Mimi with their noodles, she called the cops and had their behavior corrected….NOT! Turns out it was "National Night Out" and the local "constables on patrol" were there to eat ice cream. :-0 Of course, we had to have "dinner in reverse" too.
After a dinner of "Chicken Parmigiana" we settled in to watch "Rio" and turn in at 9:00…the "no more electronics" bewitching hour!
Life is good at Mimi Camp.
Mimi