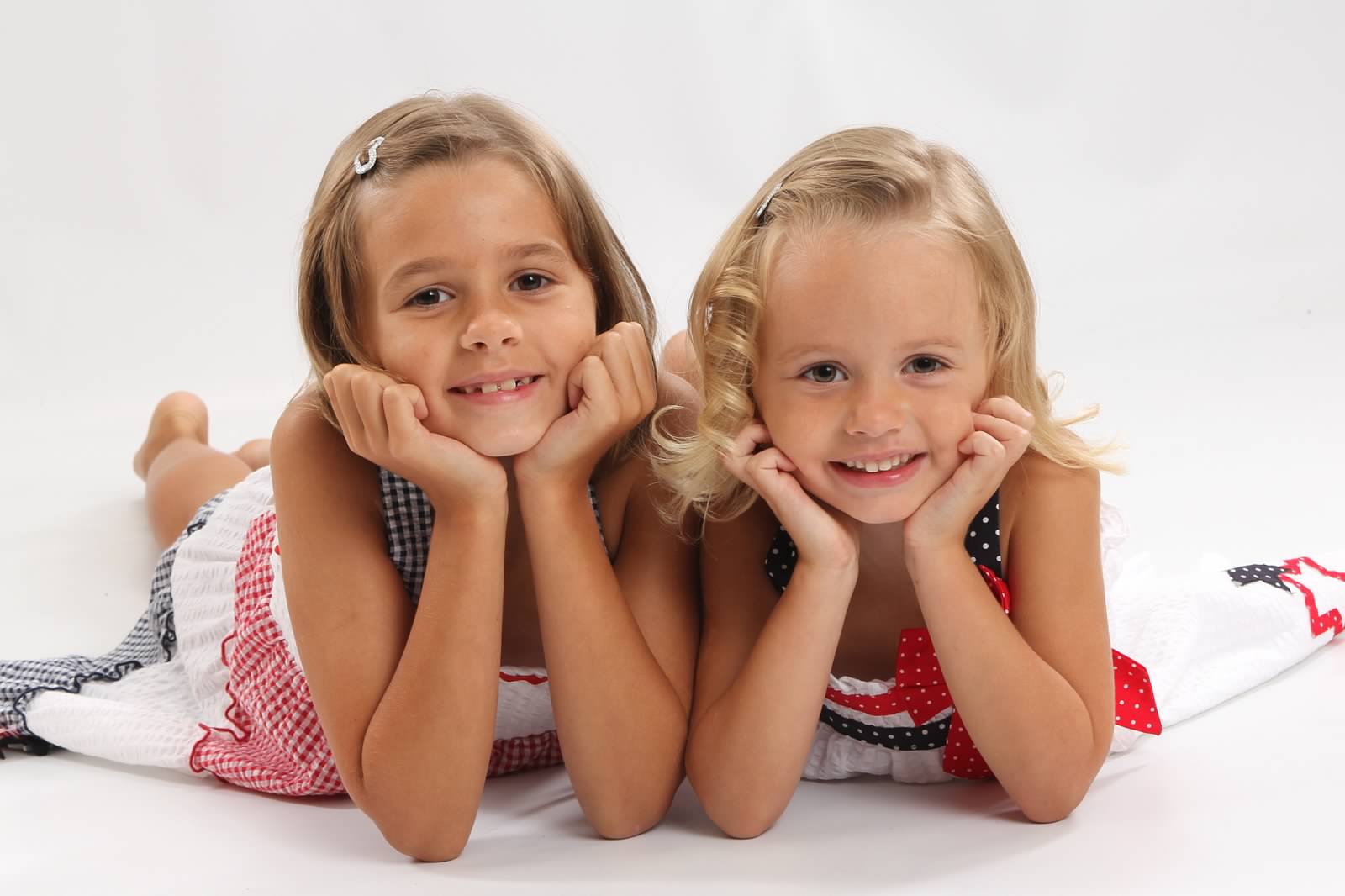 Monday was the big "hair-do" day at Mini-Mimi Camp.  After a slow early morning rising and breakfast with a smash of "My Little Pony" thrown in, Mimi and her campers headed off to Fair Oaks Mall for their rendezvous with the elephants at "Cartoon Cuts."  The girls each watched cartoons (LK watched Dora while MF saw Scooby Doo) while their hairdressers worked their magic.  Amazing that it only took two women and 20 mins to transform the girls into beautiful little ladies.  Since we were early for our picture appointment, we took a stroll around the mall with Khaki avoiding every crack in the floor.  (Mimi was starting to have visions of "Rainman"!)
After  two thrilling rides in the mall elevator, we headed back to the photo studio where the girls performed like champs.  They looked so cute in their new dresses that everyone in the mall took a second look at Mimi's Cuties.  While waiting for the picture results, we stepped into the Corner Bakery for lunch and found that their children's meal of Mac and Cheese is one of the best values in town!  Mimi highly recommends "Corner Bakery!"  To occupy the campers while Mimi agonized over which pictures were the best (all of them were!), the girls played on Mimi's iPad. (A stroke of genius on Mimi's part to bring it along!)  After much thought and analysis, Mimi decided to buy them all with the "special" on-CD deal. What a bargain!  Pop-Pop will never know!
With that success in hand and the skies turning blue, we came home, restocked our snack-pack with white grape juice and cheez-its, and headed out to Burke Lake Park.  The day was perfect for the park with slightly overcast skies with a hint of blue and 78-ish degree temps.  There were very few people enjoying the park and we had our run of the carousel and the train!  If we had had more time and energy, we could have taken a nice stroll around the lake, but Mimi's energy was starting to wane so we headed home for dinner preparation and more "My Little Pony."  Mimi and Mary Frances agree that if they never see Rainbow Dash or Princess Celestia or AppleJack or Pinkie Pie or Nightmare Moon or Fluttershy or Twilight Sparkle again, it will be OK (Note to future campers: There is a very nice mini-golf course at Burke Lake Park!)
Pop-Pop arrived home after a quick commissary trip and we all sat down to dinner with Uncle Chi.  Only Pop-Pop and Mimi ate the "Cowboy Casserole" so dinner was supplemented with cheesy apples and leftover spaghetti! Uncle Chi probably stopped at Quizno's on his way to see Lucy!  The evening was spent listening to PopPop's hilarious rendition of reading Skippy Jon Jones….a must that should be on every camper's list of "to-do's!"  Even Khaki gave him an "eye-roll" for his performance!
Another successful day at Mini-Mimi Camp!  Tomorrow we head to the zoo on Metro where Khaki wants to see zebras or "horses with stripes" and Mary Frances has her chocolate ice cream cone on her gotta-do list. Thank goodness the weather will be a little cooler and Mimi will know to bring wet paper towels for clean-up.