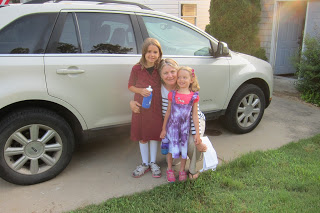 Mini-Mimi Camp began on Thursday, June 13th.  Mimi and her small campers drove back to Fairfax early in the morning, in hopes of avoiding severe storms that were forecast for Northern Virginia.
The drive was peppered with "Are we there yet?" questions, which wasn't unexpected except that they began in Henderson (30 mins from Raleigh)!  Khaki doesn't seem to have a concept of driving times….Mary Frances isn't much better at that skill, either.  I loved Mary's question, "Do you like saying 'yes or no' when asked that question?"  How was I supposed to answer THAT without stretching the truth? Kids can ask the strangest questions!
We arrived in Fairfax without a drop of rain and with only two stops for the "necessary", which included a double chocolate milk and two strawberry donuts of the Dunkin' Donut variety!
Since the weather wasn't the best, we had to forego a dip in the pool.  The girls settled in to serious cartoon watching.  In between SpongeBob and Mutant Turtles (modern version), the girls were trying their hand at the banjo.  After a thousand and one "Jesus" songs, I asked for a "Mimi Camp" song and Mary broke into her version of "Don't be afraid of Mimi Camp!" Huh?Hmmmm!  Now she has me worried….
Uncle Chi arrived back from the airport with Pop-Pop at the same time we got back with pizza for dinner and we all settled in for a mix of Nickelodeon and NBA Finals.  Mimi settled in to bed and slept soundly for almost 9 hours!
Ready to face another day of the "worrisome" Mimi Camp…heading to have hair done at the "elephant wash" aka "Cartoon Cuts" and then on to have their annual pictures taken.
Let the fun begin!