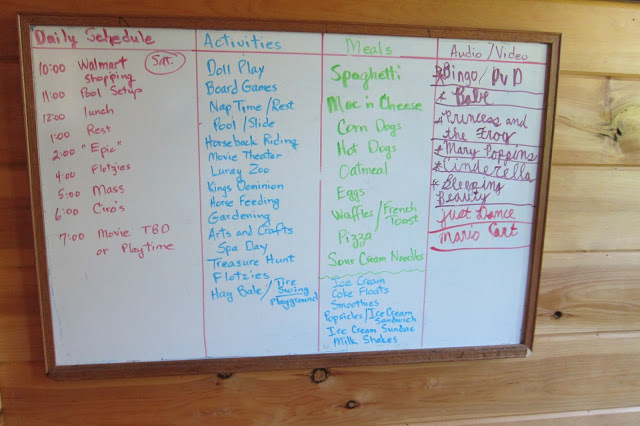 This Saturday is chocked full of activities for the campers, beginning with the activity planning and scheduling .
Mimi and the campers then headed out to Luray while PopPop tidied up his garden. Trying to broaden the culinary sessions at camp, Mimi's tour around the grocery produced a small extension of camp cuisine and a large extension of PopPop's credit card balance!
Mimi couldn't get out of WalMart fast enough!  Lunch was corn dogs, a new Mimi Camp delicacy!
After lunch, the real fun began with a trip to the Page Theatre in Luray to see "Epic."  With popcorn, soda, Skittles and Sour Patch kids for sustenance, the four of us enjoyed the movie.
Then if was off to Flotzies to "top off our tanks" in preparation for Father Chris.  The girls got their favorite ice cream cones–Mary, chocolate, and Laura Kate, vanilla. (strawberry was not available)
We all made it through mass….LK slept….and the rest of us prayed….and then we went to Ciro's….as if we needed MORE sustenance.  Although, we all ate heartily….pizza for Khaki and ravioli for Frankie.  After dinner, we headed back home to settle in for a movie (Wall-e) for the girls and a Nationals game for PopPop and Mimi.
Day Three was good…especially for eating!