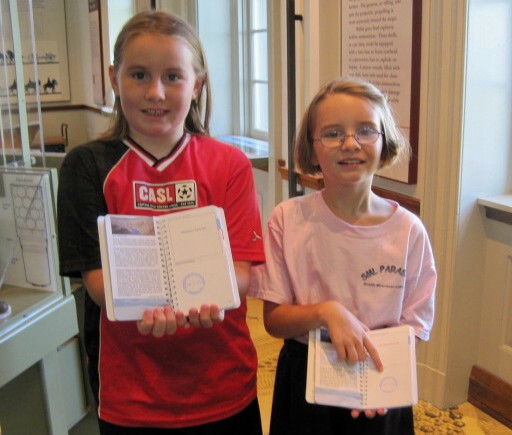 Day Five began with the usual "Uncle Michael's Eggs" for HR and cereal for Annie, followed by a healthy dose of Saturday morning cartoons. By 8:30, Mimi rounded up her posse and we headed for Shenandoah National Park in search of our passport stamps. Unfortunately, our drive through the park on Skyline Drive amounted to a "Drive in the Clouds." We could see about five feet on either side of the road for the entire drive! Wildflowers were blooming and we saw a buck, but that's about all. Scenic vistas were not to be seen and even a short hike would not have been nice.
We found the visitor center in the fog, got our stamps, saw a short video on bears and headed home. Hopefully we can return in the future and do some hiking and see some overlooks. Our afternoon was spent in the house with the girls watching cartoon network and PopPop watching the PGA. Mimi managed to bake some chocolate zucchini bread to take to Raleigh. Well–only half will go to Raleigh; the other half was eaten for dessert! At 4:00 we went out to pick the first good peaches, EVER, from PopPop's peach tree….and they are DEEE-licious. The harvest was small, but the fruit was good. P0pPop thinks this bodes well for the future.
We went to mass at Our Lady of the Valley, had dinner at Rancho Viejo and headed home for an early bedtime.
Life is good at Mimi Camp.
Mimi