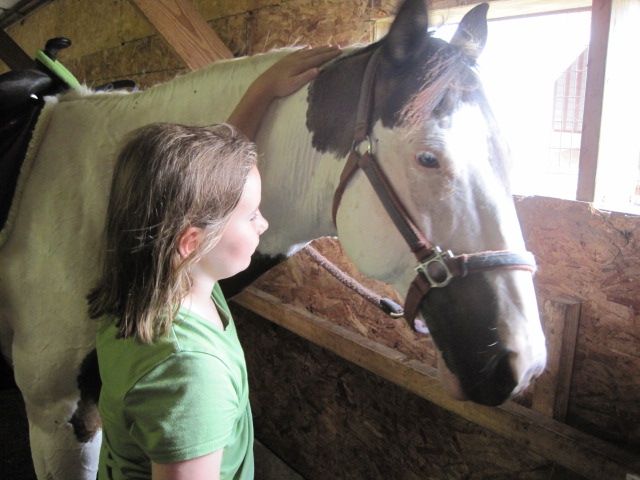 Mimi Camp moved to the valley and the girls woke up early, too excited to sleep, thinking about the horseback rides. Honora requested Uncle Michael's now-famous flavored olive oil scrambled eggs. Mimi cut the grass and PopPop worked in his garden till about 9:30 when it was then time to leave for the stables. Honora was so excited that she even took a shower without even being prompted!
We arrived at the Bar M stables and met up with their guide, John, and their trusty mounts, Tinkerbell and Hollywood. Our cowgirls headed out for their trail ride through the foothills of the Blue Ridge and Mimi and PopPop headed into town to check on car taxes and to have London Broil ground into meat for Momee Meatballs. Mimi thought the trail ride was probably a little more exciting that her trip to Luray!
After riding, the girls were hungry and settled for grilled cheese sandwiches with tomato soup…a tradition for Mimi Camp. We spent the afternoon earning money for Mimi's new WebKinz so that the poor puppy has a bedroom and some food to eat! Then the new stepping stone needed to be made and after the stone construction, Uncle Chi, AG and HR settled down to watch the movie "Matilda." After that it was time for PopPop's delicious meatloaf, new potatoes and corn on the cob from his garden, along with slimy boiled okra! He got Annie to try just a "drop" of the slime and, of course, this brought back all the memories of Uncle Michael's initiation into boiled okra!
Dessert was coke floats or ice cream sundaes while watching McNabb's first appearance as a Redskin in Washington's first preseason game. Mimi decided to write her blog since the "skins" were not that interesting. A half hour of Star Wars: Clone Wars was promised to appease the gods after having to watch meaningless preseason football and second round golf!
Life is good at Mimi Camp.
Mimi