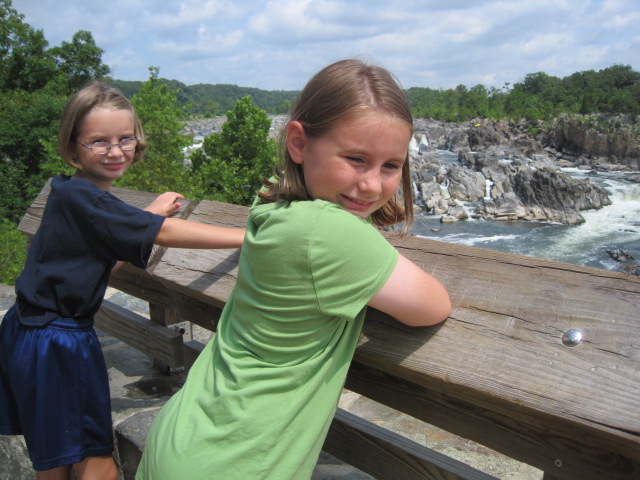 It was a tentative beginning for day two, depending on Annie's condition; but she rallied to save the day. Her fever was gone and she was "rarin' to go." After a few Pokemon and Yu-Gi-Oh cartoons, we decided to head out to Great Falls Park on the Virginia/Maryland border. The day was going to be hot, so we left around 11:00 and decided to end there around noon.
We arrived at the Visitor Center and found our passport stamps. With books stamped for the Great Falls trail, park and the George Washington Parkway, we headed for their auditorium to see the 10 minute video about the history and geology of the park. The girls were hesitant to hike a trail and/or walk to the Falls, but Mimi persisted. The "three strikes and you're out" seemed to work on their complaints. They were told that their complaints would be tallied and if there were three or more, lunch would be PBJ at home rather than burgers and fries at Burger King. That did the trick and we walked to the see the falls on the Potomac River. The water level was low, but the falls and river were still beautiful.
Then it was off to Burger King and home to wait for PopPop to call. We picked PopPop up from the Vienna Metro, went back to the townhouse where Chi was waiting for us and then took off for the valley. We had pasta and a tuna sub at Ciro's, then retired to the tv to watch one of the first preseason football games…Carolina vs Baltimore….or "the girls vs Uncle Chi." Tomorrow it's "horses" and the girls can hardly wait!.
Life is good at Mimi Camp.
Mimi