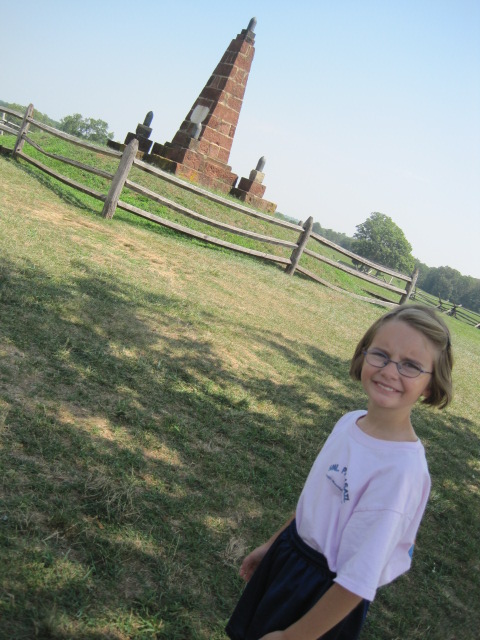 Mimi Camp began today, Tuesday, August 10th, when Mimi picked up HR and AG at Grandma and Grandpa's house. We drove home to the townhouse while discussing our activities for the day, beginning with a trip to the grocery store for breakfast, lunch and dinner items and "dorodery" for Annie. It took Mimi a while to figure out just what "dorodery" was, but after a technical discussion, we added deodorant to our list!
Mimi, Uncle Chi, AG and HR took off for Wegmans with a grocery list that included ingredients for chicken parmesan, Chef Boyardee's Cheesy Burger Macaroni and Captain Crunch Berries. And, of course, coke for our coke floats. We added a few snack items (gushers and fruit by the foot) for the girls and granola bars for Uncle Chi and then headed home to prepare for our major adventure of the day.
Around 10:00, the four of us headed to Manassas Battlefield Park to learn a little about the first battle of the Civil War and to begin our National Parks Passport adventure. While Chi took the walking guided tour, Mimi and the girls watched a 45 minute movie about the battles fought on the battlefield. After the movie, we walked some of the places that we saw in the movie and found Judith Henry's grave and the old stone house. After hiking to the stone house, we got our second passport stamp and began our trek back to the visitor center and our car. By then the temps were in the 90's and we were glad to be back in modern air conditioning!
We ate our cheesy burger macaroni for lunch and settled in to watch the movie Mary Poppins, which was "supercalifragilisticexpealidocious." We also enjoyed some of Mary Frances' frozen chocolate pudding pops, which were DEE-licious! PopPop got home around 5:00 and the five of us, PopPop, Mimi, Uncle Chi, HR and AG, along with the blue and infamous purple noodle, headed off for a dip in the pool. It was refreshing and fun, especially with the noodles turned into the poorman's "supersoaker!"
Dinner was ready by 7:30….Chicken Parmesan….personally requested by the girls. We are watching "Unnatural History" on the Cartoon Network and had our traditional coke floats. Bedtime is rapidly approaching and Mimi is signing off. Tomorrow we'll try our hand at some shopping and then rest up for our big night at the Kennedy Center!
Life is good at Mimi Camp!