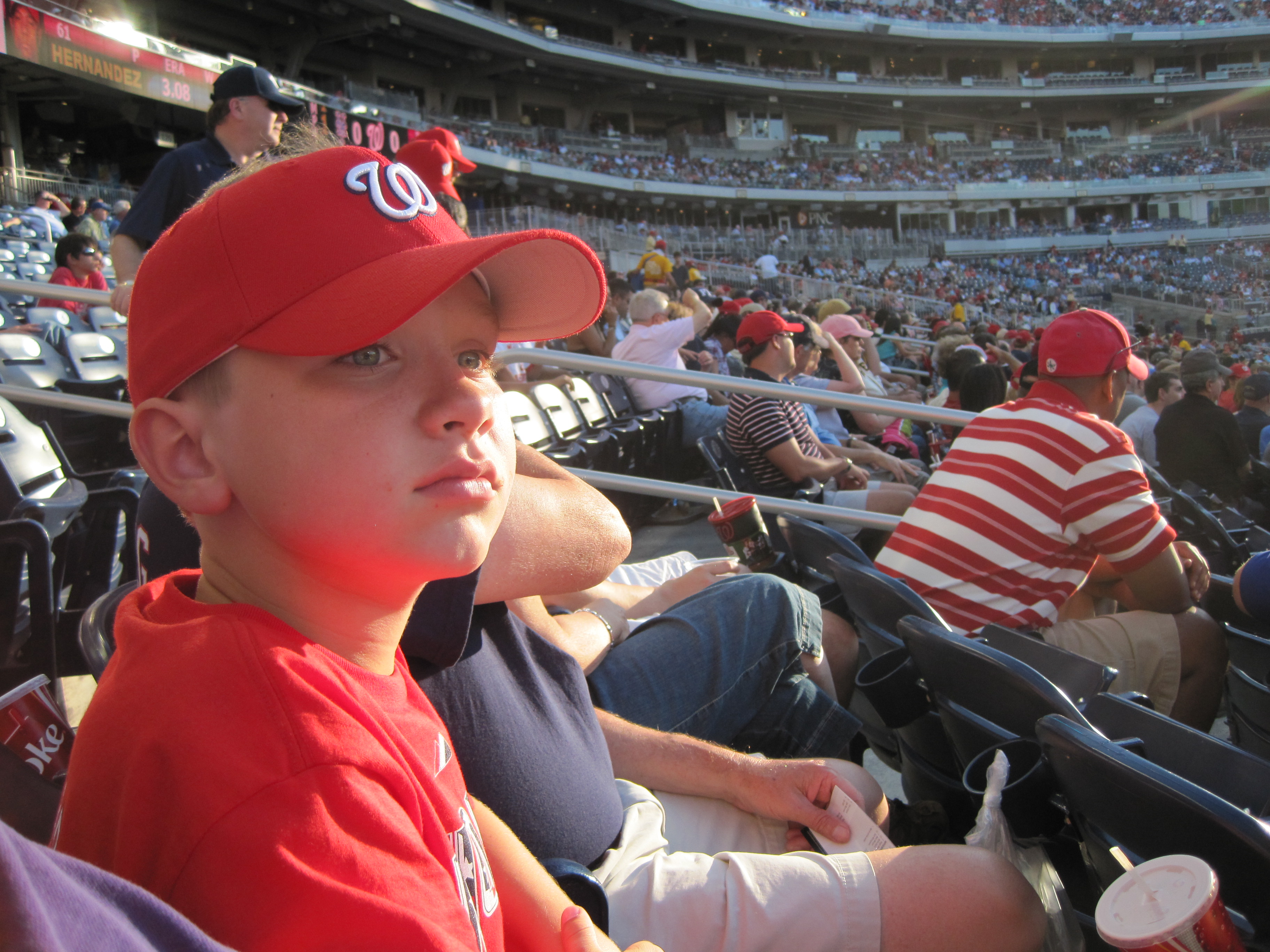 We saved the best for the last day of Major Mimi Camp. The day began with the "usual" bucket of cereal, followed by pop tarts and scrambled eggs. That will always hold him over til his mid-morning snack during the Pokeman and Yu-Gi-Oh cartoons. Uncle Chi then challenged Davis to a few games of bowling (Mimi's pocketbook is still "licking its wounds!). That got us to his favorite lunch, Asian Peanut Noodle bowl, which he fixed for himself at home.
The day went down in history as the "Davis took a nap" day. While attempting to watch Free Willy, Davis Michael Toothman fell asleep in PopPop's recliner and caught about an hour's worth of zzzzz's. Never before in history has that happened! Good thing it did, though, because the evening was a late one.
At 5:00, Grandad and Grandma picked us up, we drove to Jenn's and left for Nationals Park in downtown DC. Traffic wasn't bad and we parked and walked into the park by 6:15. At which point we were greeted by George Washington….or was that Thomas Jefferson??? Of course, Davis would not have his picture taken with the president, but Grandma and PopPop appreciated the historical photo-op. We made our way to our seats via the hot dog stand and met up with Uncle Rick. The best political race of all time happens at Nationals Park. Where else can you see George, Thomas, Abe and Teddy all in one race?
What a wonderful ballpark! Definitely a place to "Get Your Red On!" Our seats were in the right field lower deck area and just perfect for viewing….and not too far from the concessions. Since Davis needed sustenance about every two innings, he was in a good position to satisfy his needs!
Davis is definitely almost true to the song "Buy me some peanuts and cracker jack….however, the lyrics need to be changed to "a hot dog with onions, a soda, French fries with catsup, a churro, a chocolate milk shake and dippin' dots." When I asked if he needed Pepto Bismol, he said "what's that?" Oh, to have a stomach with that capability!
The grand finale of the game and of Major Mimi Camp came in the bottom of the ninth inning, with the bases loaded and the score tied at 1 to 1. Ryan Zimmerman, the 3rd base powerhouse, stepped up to the bat and hit a long pop fly to right field to score the runner from third!
Nationals Win!!
It was a great finish to a fun week.
Life is good at Nationals Park and at Major Mimi Camp.
Mimi