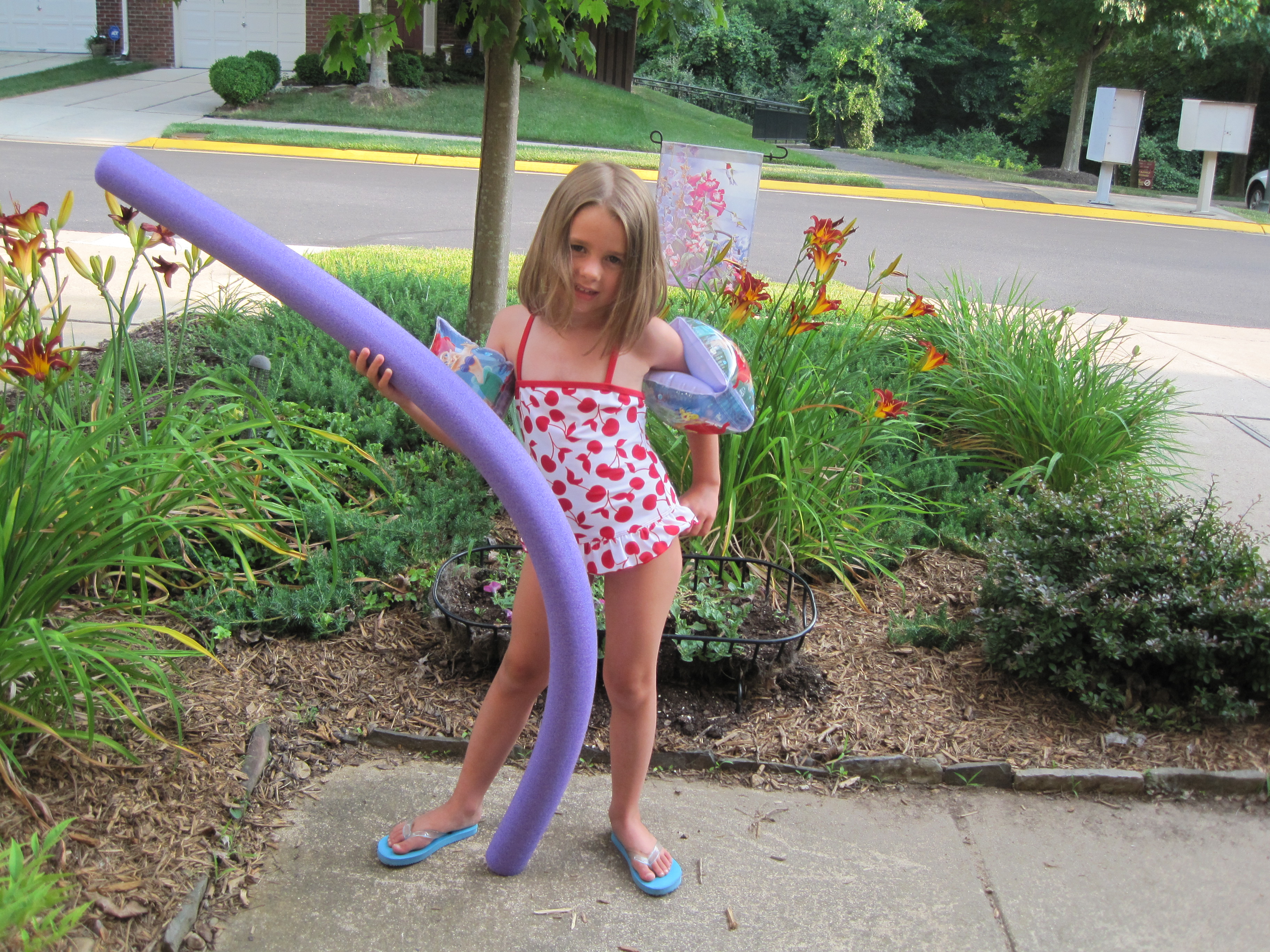 Camp today began around 8:30 this morning with a late sleep-in. Our camper awoke, changed into her pretty blue dress and came down for breakfast—Lucky Charms and white grape juice. Yu-Gi-Oh cartoons were on, followed by Dora the Explorer. Our plans changed a bit when we found out that PopPop's flight was very late, so we called Aunt Jill and told her we were going to be late also.
We took our time and went shopping at Target for a new outfit to wear over to Grandma and Grandad's house. We hit the target at Target with a new purple sundress. Once in the girls' department, of course, we found a few more items, including a new white swimming suit covered with red cherries….Spectacular! Then on to Jill's house to have lunch and swim.
The twins were all smiles when we arrived and Frankie and Mimi went over to Harris Teeter's to get a sub for Mimi and Jill and a "lunchable" for Mary. We had a quick lunch because Anderson and Claire were also getting hungry. They had a "snack", got sleepy and were ready for a quick nap. Jill, Mary and the purple noodle decided to leave for the pool while Mimi stayed with the twins.
The quick nap turned really quick after about 30-40 mins and it was time for the girls to return from their swim. Mimi and Mary helped Jill to quiet them with their bottles and then it was time to be off to Crossfield to meet up with Grandma.
We arrived at Crossfield around 3:00 and Mimi came "home alone." Meanwhile, PopPop is stuck on getting a different flight and will now not get home till around 10:00 tonight.
Life is good, but lonely, here at Mimi Camp.